Welcoming our brand new 60T Liebherr All Terrain Crane – LTM 1060-3.1!
This crane features particularly high load capacities and long boom systems, with a special ballast plate configuration enabling it to handle a very wide range of driving conditions. The latest chassis technology combined with compact dimensions ensure it can service even the tightest of sites.
The 60T Liebherr All Terrain Crane has strong capacity at close range and long boom length which enables it to perform many functions from maintenance work in tight locations and the installation of new structures at height, like the recent signage installation in Wollongong. Check out its full capabilities on the Charts and Specs page here. 
SPECIFICATIONS
Max. load capacity     60T at 2.1m
Telescopic boom        48M
Lattice Jib up to          16m
Max. hoist height        63M
Max. radius                 48M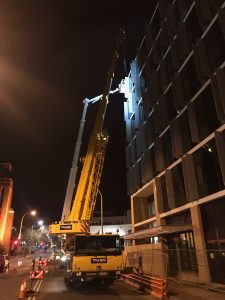 Call us now to book the 60T Liebherr for your next job.