Tolleno Hire is a locally owned and operated mobile crane hire company with the sole aim of providing the best quality crane service to our customers in the Wollongong/Illawarra region.
Our fleet of CraneSafe Certified Liebherr All Terrain, Franna and Tidd Cranes are operated by our team of highly experienced crane operators and dogmen who are familiar with the majority of projects, sites and systems in the Illawarra area.
We specialise in servicing industrial, commercial and construction clients, with our systems, cranes and personnel being pre-approved by many Bluechip clients.
The directors of Tolleno Hire, Adrian and Tammy Klein, are personally involved in ensuring the satisfaction of our customers' crane hire needs on a daily basis.
Safety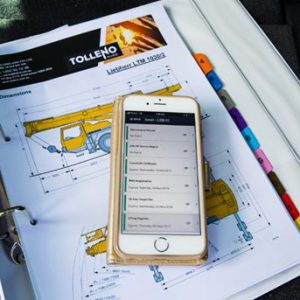 At Tolleno Hire workplace safety is of upmost importance. All team members are experienced in the use of JSEAs, Work Method Statements and other customer specific systems (including site specific inductions).
Our online Assignar allocation system enables work crews to get up to the minute information on their mobile phones relating to:
Allocated jobs, contact details, map links, additional job documentation
All induction records, competencies and expiries
All asset specific documents such as Crane Safe Reports, Certificates of Registration, Lifting Registers, Maintenance Records, etc
Company specific documents such as Insurance Certificates of Currency
Any of this information can be emailed to the customer, with the touch of a button from the operator's app on their phone.
Tolleno is committed to the long term safety of our team and the customer service we provide.
Community
Tolleno Hire is passionate about giving back to the Illawarra area and supports many local events and fundraisers including the Illawarra Convoy and local Oztag and Rugby League Teams.