Our compact 40T Liebherr All Terrain Crane delivers outstanding lifting capacities over its entire operating range. Its long, 3-piece telescopic boom can be extended with infinite adjustment and quickly to any length using a time-tested hydro-mechanical telescoping system. The telescoping process can also be completed whilst there is a load on the boom. A folding jib can be used to achieve a radius of up to 39 metres.
The compact size of this all terrain crane allows it to navigate the toughest of sites and lift in the tightest of scenarios, perfect for industrial and construction sites.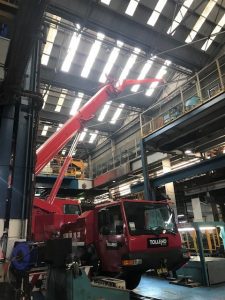 SPECIFICATIONS
• 40T max load
• 35m of main boom
• Additional 9.5m of fly
See its full capabilities and technical specifications here.
Call us now to book the 40T Liebherr for your next job.